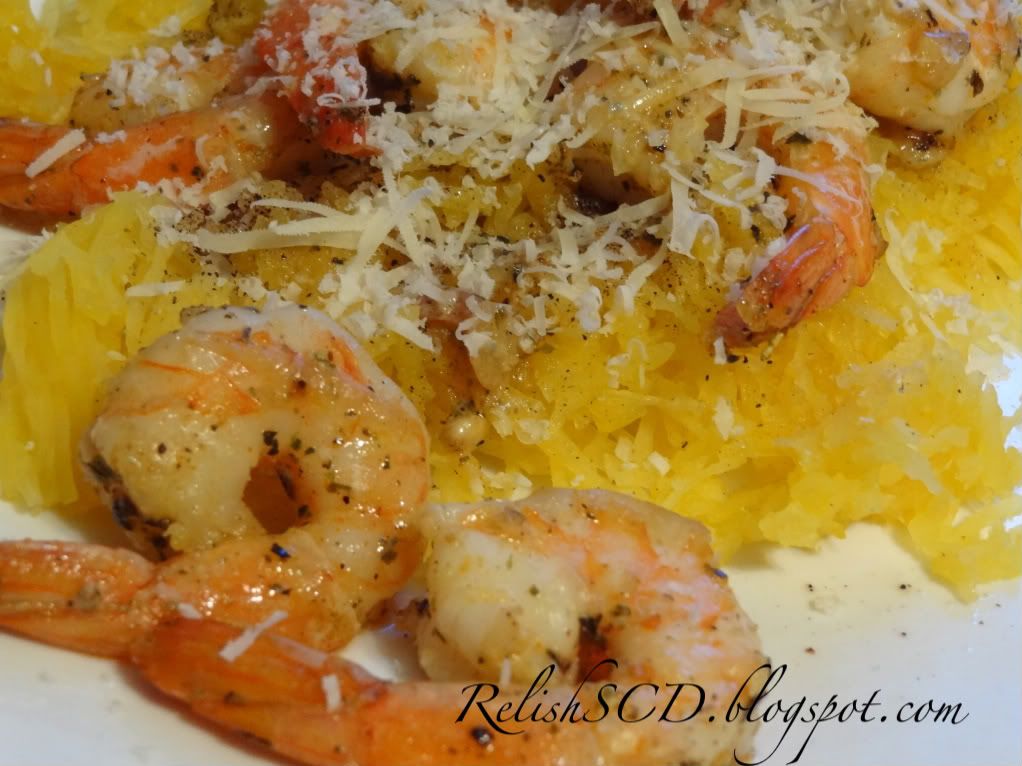 Seafood- the occasional relief from chicken and steak is always welcomed. This recipe turned out tasty and simple! It does have a spicy kick, so if you are not fond of heat in your palate reduce the cayenne pepper or just omit all together.
For the Shrimp:
3 fresh garlic cloves
2 Tablespoons of olive oil (or
coconut oil
).
1/4 teaspoon cayenne pepper
1/4 teaspoon black pepper
1/2 Tablespoon Italian Seasoning
1/2 teaspoon salt
1/2 pound shrimp (about 20 medium sized)
Saute garlic in oil over medium heat until garlic is translucent. Add seasonings to the oil and mix around the seasonings with a spatula and then add about 15-20 shrimp. I used pre-cooked, thawed shrimp, but you can use raw- -just cook until pink and they start to curl up. Be sure to coat the shrimps with the oil/seasonings, simmer until heated or cooked thoroughly.
For the Spaghetti Squash:
Halve one spaghetti squash and scrape out the seeds and surrounding icky stuff with a spoon and discard or separate the seeds and throw them in the baking dish surrounding the squash- they will get crispy and make a great snack. Place the squash open sides down in a baking pan. Depending on how large the squash, cook until fork tender, about 25 minutes on 425 degrees.
Use a fork and scrape the walls of the squash until all of the little strands of "pasta" come out. Add a bit o' butter, some white pepper, and salt.
To finish, take a bed of spaghetti squash, top with a few shrimp, and grate some fresh Parmesan or Reggiano cheese on top (scd optional, not really paleo technically). Enjoy!